Man Faces First Degree Murder Charges for Fatal Shooting in Newark, NJ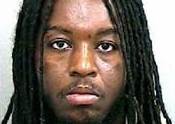 A Hillside man was arrested in connection with the fatal shooting of a man outside an apartment complex in Newark, New Jersey. The suspect is 31-year-old Antwan Malone from Hillside in Union County, NJ. According to law enforcement officials, Malone was involved in the killing of John A. Sosa, a 48-year-old man from Roselle, New Jersey. On July 5, Sosa was kidnapped and taken to the parking lot behind an apartment building located on Brunswick Street in Newark, NJ. Sosa was then shot and killed in the parking lot. Newark police officers were called to the scene after receiving reports of gunshots being fired. When they arrived at the scene, they found Sosa on the ground and unresponsive. He was ultimately pronounced dead at the site of the shooting.
The U.S. Marshals Fugitive Task Force worked with the Newark Police Department and the Essex County Prosecutor's Office to investigate the homicide. After a few days, detectives identified Malone as the main suspect in the killing. He was then placed under arrest at a home located in Hillside, New Jersey.
Life Imprisonment for First Degree Murder in Newark, NJ
Malone has been charged with numerous crimes, including first degree murder, felony murder, kidnapping, conspiracy, unlawful possession of a weapon, and possession of a weapon for an unlawful purpose. At this time, Essex County prosecutors have not released many details about the homicide. Once Malone makes an appearance in Essex County Superior Court for a detention hearing, the prosecutor's office may provide more information about the case. With very little information having been provided thus far, it is unclear whether Malone knew the victim or what the circumstances of the alleged kidnapping and murder were.
If Malone is ultimately convicted of the most serious charge of first degree murder, he would face severe penalties. In most instances, first degree crimes in NJ carry a maximum penalty of 20 years in state prison. However, murder is a special type of first degree crime that carries a minimum penalty of 30 years in prison and a maximum penalty of life behind bars. Moreover, the aggravated circumstances of this homicide – which include kidnapping and other alleged crimes – could make it more likely that a conviction would result in Malone being sentenced to life in NJ state prison.
Free Consultation with Newark Criminal Defense Lawyer About Murder Charges
Do you face charges for a violent crime such as murder, aggravated assault, or armed robbery in Newark, NJ? Then you need to speak with a qualified criminal defense lawyer about your case. Contact Newark criminal attorney Travis J. Tormey to discuss your particular charges today.
Related Blogs: