West Orange Harassment Defense Lawyers
Criminal and Restraining Order Attorneys in Newark, New Jersey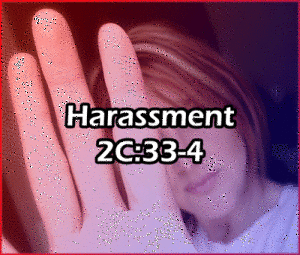 Harassment charges in the Essex County, New Jersey area happen more often than you might think. For example, it is not uncommon for a loud verbal argument to prompt police action and a criminal complaint for harassment, especially when the argument stems from a domestic dispute. Even harmless prank phone calls can result in harassment charges. Regardless of the reasons for your arrest, it is important that you take a disorderly persons offense charge for harassment seriously. A conviction for harassment, or any other assault or threat crime, in New Jersey can have devastating consequences, including possible prison time, probation, and a permanent criminal charge for harassment on your record (known as a criminal case history (CCH) in New Jersey). It may also lead to a restraining order against you which can last for the rest of your life.
The Tormey Law Firm is a team of skilled criminal defense lawyers in Newark, NJ, with extensive experience defending clients against charges for harassment and restraining orders in Essex County Superior Court. Founding partner Travis J. Tormey knows what it takes to secure a win in the courtroom. Prior to starting his own practice, Mr. Tormey worked for two of the largest and most well-known criminal defense firms in the state. The firm also includes a former county and municipal prosecutor who regularly handled domestic violence cases including charges for harassment. If you have been accused of harassment in Orange, Essex Fells, Montclair, Bloomfield, Livingston, or anywhere else in Essex County, contact the Tormey Law Firm today. You can reach us day or night at 201-654-3464 for a free consultation.
Harassment in New Jersey: N.J.S.A. 2C:33-4
The NJ Criminal Code defines "harassment" broadly so that it applies in a variety of situations. As set forth by N.J.S.A. 2C:33-4, harassment occurs when a person makes offensive communications or strikes, kicks, shoves, or otherwise offensively touches someone else. You can also be charged with harassment if you engage in alarming conduct or repeatedly commit acts with the purpose to alarm or annoy another person.
Harassment is typically classified as a disorderly persons offense. However, if you harass another person while serving a term of imprisonment or while on parole or probation, the charge may be elevated to a fourth degree felony.
Penalties for Harassment in NJ
A conviction for fourth degree harassment carries severe penalties, including a sentence of up to 18 months in NJ State Prison. Even if you are convicted of a disorderly persons offense under the harassment statute, you can be sentenced to as many as three months in jail. Additionally, in certain circumstances, harassment can be elevated to more serious domestic violence charges like stalking or terroristic threats.
Harassment and Restraining Orders in Essex County, New Jersey
Criminal charges are not the only consequence of harassment in New Jersey. If you are accused of harassment, you might also be subject to a restraining order that will prevent you from having any contact with the other person.
Consult a Livingston Harassment Lawyer about Your Charges
An experienced criminal defense attorney can keep you out of jail and preserve your permanent record. The skilled attorneys at the Tormey Law Firm have had great success defending against harassment charges, negotiating on behalf of clients and getting them admitted into diversionary programs in lieu of prison for assault and threat crimes. Whether your case calls for strong negotiation skills or tenacious defense at trial, we can help you if you have been charged with harassment in Essex County NJ. Call Travis J. Tormey today at 201-654-3464, or send an email to schedule a free consultation about your harassment case.