Verona New Jersey Speeding Tickets
With offices in Newark, New Jersey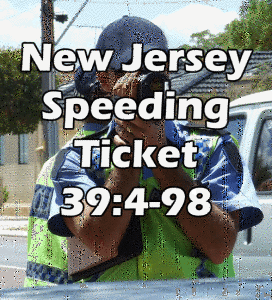 Just about everyone has been caught speeding at one time or another. A speeding ticket is nothing to be ashamed of. However, it's still important that you do everything possible to avoid the most serious penalties for a speeding violation in New Jersey because there are often heavy fines involved. Beyond that, you will be assessed traffic points; accrue too many points and your insurance rates will skyrocket.
We have a traffic defense team with lawyers who know how to fight New Jersey traffic tickets. We appear regularly in traffic courts throughout Essex County, including Montclair, Orange, and West Caldwell. We also understand how important your driving record is when it comes to insurance rates; that's why we will do everything possible to protect you and minimize any negative consequences. Call 201-654-3464 today to speak with us about your speeding ticket.
Essex County Speeding Tickets: N.J.S.A. 39:4-98
Speeding violations in the State of New Jersey are governed by N.J.S.A. 39:4-98. The statute establishes the speed limit for certain kinds of road or areas in the state:
School Zone: 25 miles per hour
Business or Residential District: 25 miles per hour
Suburban District: 35 miles per hour
Certain Highways: 55–65 miles per hour
All Other Roadways: 50 miles per hour
You can be ticketed for speeding even if the violation occurred on a road that did not have a visible speed limit sign.
NJ Speeding Tickets: Penalties and Points on Your Driver's License
If you are convicted of speeding in New Jersey, you will be subject to a fine typically ranging between $50 and $200. If the violation occurs in a protected zone, such as a construction zone or a "Safe Corridor Area," the fine may be doubled.
Speeding violations will also result in motor vehicle points on your license. The total number of points depends on the rate of speed:
1–14 mph over speed limit: 2 points
14–29 mph over speed limit: 4 points
30 mph or more over speed limit: 5 points
In addition to causing your insurance rates to go up, points can also result in the loss of your driving privileges. If you accumulate 10 points, your license may be suspended.
Contact a Millburn Speeding Ticket Lawyer
The traffic ticket defense lawyers at our firm know a thing or two about beating speeding tickets in New Jersey. We have successfully challenged prosecutors and traffic officers in cases in which our client was clocked going well above the speed limit. Call us today at 201-654-3464 to discuss your case, or email us to schedule a free consultation at our Newark office.