Essex County Removal from Megan's Law Registration
Sex Crimes Defense Attorneys in Newark, New Jersey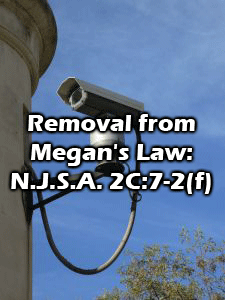 A sex crime conviction will follow you around for the rest of your life. In the computer era, it is extremely easy for just about anyone to access your personal records. Imagine the embarrassment and the humiliation that will be caused by the appearance of a sexual offense next to your name on a Google search. Worse yet, you could be forced to publicly disclose your past conviction for sexual assault or criminal sexual contact because of Megan's Law sex registration requirements. That's why it is absolutely imperative that you secure the services of a skilled attorney and fight your sex crimes charges.
Our firm is a criminal defense team with years of experience handling sex crime cases in Essex County, NJ, including Verona, Newark, and Irvington. We have a track record of success when it comes to beating these kinds of charges and helping our clients avoid sex registration requirements. Additionally, our litigation team includes a former county and municipal prosecutor who prosecuted a number of sex crime cases throughout his distinguished career; now he represents defendants accused of sexual offenses. Moreover, our firm's founding partner is a respected legal resource who has been contacted by New Jersey media outlets for his expertise on Megan's Law.
Call Us Today
Contact us now at 201-654-3464 to explore your legal options and find out if it is possible for you to be removed from Megan's Law registration in New Jersey.
New Jersey Megan's Law Sex Offender Registration
Sex crimes often carry mandatory minimum terms of imprisonment. However, your nightmare won't end when you are released from custody. A two-year sentence can easily become a life sentence because NJ law will probably require you to register as a sex offender after your release from prison.
Megan's Law imposes harsh restrictions on defendants who have been convicted of sex offenses. For starters, you will have to register with the municipality. You will also need to notify local schools and neighbors about your status as a convicted sex offender. Beyond that, you will need to provide law enforcement with a photograph so that your image can be posted on an Internet database listing sex offenders in the area.
Removal from Megan's Law in Essex County, New Jersey
The good news is that even if you have already been convicted of a sex crime in New Jersey, an experienced attorney can help you avoid Megan's Law requirements. Depending upon the circumstances, you might be able to file a motion to be removed from the sex offender registry.
In order to be removed from Megan's Law in New Jersey, you must file an application with the Essex County Superior Court and satisfy certain requirements:
15 years must pass from the date of your conviction or release from prison
The conviction must not have been for a violent sexual offense
You must have a clean criminal record since the original conviction
The court must determine that you do not pose a threat to the safety of others
Speak with Megan's Law Removal Lawyers in Montclair, NJ
Don't let a mere accusation ruin your life. Contact us today to speak with experienced lawyers who will combat your sex crime charges and ensure that you do not have to register as a sex offender. Call us now at 201-654-3464, or fill out the online contact form to schedule a free consultation at our office in Newark, NJ.