West Orange Criminal Sexual Contact Attorney
With offices in Newark, New Jersey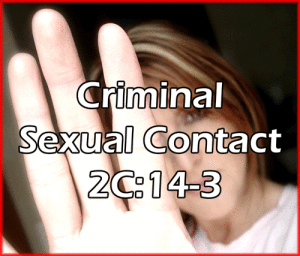 A conviction for any kind of sexual offense can haunt you for a very long time. Not only will you be looking at serious prison time; you could be persecuted long after your release from custody because you will have a sex crime conviction on your permanent record. As a result, it is important for you to be proactive about defending yourself against these charges. If you have been accused of criminal sexual contact, do not make the mistake of speaking to the police without a lawyer present. Keep in mind that the police are working to build a case against you; they are not on your side.
The Tormey Law Firm is a highly respected law firm that focuses exclusively on criminal defense. We represent clients accused of criminal sexual contact and other sex crimes in Caldwell, West Orange, and everywhere else in Essex County, NJ. Our experience in the courtroom is matched only by our outstanding legal credentials: founding partner Travis J. Tormey previously worked with the sex crimes unit of the United States Attorney's Office, while another member of our litigation team served as a municipal and county prosecutor.
Call Us Now
You can reach the Tormey Law Firm by phone at 201-654-3464. We also encourage you to check out examples of our Successful Criminal Sexual Contact Verdicts and Settlements.
Criminal Sexual Contact Statute: N.J.S.A. 2C:14-3
Criminal sexual contact is a specific kind of sex crime that is governed by N.J.S.A. 2C:14-3. The statute prohibits a person from committing an act of sexual contact with a minor under any of the circumstances set forth in the aggravated sexual assault statute. This means that an adult cannot have sexual relations with anyone under the age of 13, commit an act of sexual contact with a child who is considered "physically helpless," or use force or a weapon to coerce a child into sexual relations.
Penalties for Criminal Sexual Contact in NJ
Since the circumstances for criminal sexual contact are often identical to the circumstances for aggravated sexual assault, criminal sexual contact is often included as a lesser offense in more serious sexual assault cases. Basically, a person may be charged with criminal sexual contact if the conduct does not quite rise to the level of a violent sexual assault.
Depending upon the exact circumstances, the offense can be classified as either a third degree felony or a fourth degree felony. If you are convicted of third degree criminal sexual contact with a minor, you can be sentenced to between three and five years in NJ State Prison. You will also be subject to Megan's Law registration requirements, which means that you might have to register as a sex offender for the rest of your life; at a minimum, you will be on the Megan's Law list for 15 years.
Call a Bloomfield Criminal Sexual Contact Attorney
Do not allow a mere accusation of criminal sexual contact to ruin your life. Let the experienced attorneys at the Tormey Law Firm help you fight these charges and clear your good name. Call us now at 201-654-3464 to speak with a member of our sex crime defense team, or fill out the online contact form to schedule a meeting at our Newark office.