Essex County Terroristic Threats Charges
Criminal Lawyers Essex County NJ Near Me with offices in Newark, New Jersey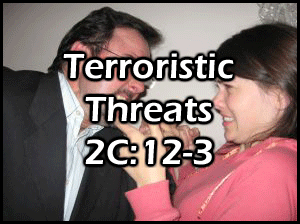 When words cross a certain line, you can be charged with a felony-level offense. Even if your words were misunderstood by the other person, you could be looking at domestic violence charges and significant consequences. One of the most serious domestic violence charges in New Jersey is terroristic threats. If you are convicted of terroristic threats, or any other assault or threat crime, you could be sentenced to significant prison time. That's why it is imperative that you speak with an experienced criminal defense attorney immediately. For a free consultation with a Nutley NJ terroristic threats lawyer, contact us directly at 201-556-1570.
The criminal defense attorneys at the Tormey Law Firm will not rest until they have won your case. Travis J. Tormey, the firm's managing partner, previously worked at the United States Attorney's Office. Now he is fighting for the rights of criminal defendants accused of assault and threat crimes (including terroristic threats) in Belleville, Montclair, and everywhere else in Essex County, NJ. Our attorneys used to prosecute terroristic threats cases for the State; now they use their training and experience to defend clients charged with terroristic threats for the Tormey Law Firm.
In addition, Mr. Tormey recently received the AVVO clients choice awards in 2013 and 2014. He was also named one of the Top 10 Criminal Defense Attorneys Under 40 In New Jersey in 2014 by the National Academy of Criminal Defense Attorneys. He was also heralded as one of the Top 40 Attorneys Under 40 in the Nation in 2014 by the National Trial Lawyers Association.
Call the Tormey Law Firm
If you have been charged with terroristic threats in Essex County NJ, protect your legal rights and preserve your freedom by contacting the Tormey Law Firm. You can call us day or night at 201-654-3464. Also, check out examples of our Successful Terroristic Threats Verdicts and Settlements.
Terroristic Threats Statute: N.J.S.A. 2C:12-3
Although you have probably thought of your actions or words as "terroristic," NJ prosecutors interpret the statute broadly, so that even a few poorly chosen words can be construed as an indictable criminal offense. As set forth by N.J.S.A. 2C:12-3, a person may be charged with terroristic threats if they have threatened a crime of violence with the purpose to terrorize or if they have threatened to kill someone with the purpose to put them in imminent fear of death.
NJ prosecutors can have a field day with terroristic threats charges because a defendant's words are so easy to frame in a negative light – especially when those words were spoken in anger and are then taken out of context in the courtroom. Additionally, since the consequences of a conviction for terroristic threats prosecutors are so severe, prosecutors are often able to convince defendants to plead guilty to lesser charges like stalking or harassment.
Terroristic Threats Penalties in Essex County, NJ
Terroristic threats charges are usually classified as a third degree felony. The only exception to this is if the threat of violence occurred during a declared period of national, state, or county emergency, in which case the offense is classified as a second degree terroristic threats charge.
A conviction for third degree terroristic threats could result in a lengthy prison sentence. As a third degree offense, the crime carries a term of incarceration of between three and five years in New Jersey State Prison.
Free Consultation with a Newark Terroristic Threats Lawyer
An experienced criminal defense lawyer like Travis J. Tormey can potentially challenge your terroristic threats charges by showing that a reasonable person would have no reason to fear your words or believe that the threat was likely to be carried out. Mr. Tormey is a skilled litigator who knows how to win your case in the courtroom. Call the Tormey Law Firm today at 201-654-3464, or fill out the online contact form to schedule a free, in-person consultation at our Newark office.