Bloomfield Simple Assault Lawyers
Essex County Assault and Domestic Violence Defense Attorneys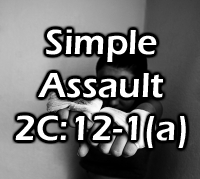 Although your simple assault charge may have arisen from a minor altercation or even a misunderstanding, it is important that you take the charge very seriously. If you are convicted of simple assault in New Jersey, you could be looking at severe punishments such as heavy fines, loss of your driver's license, and even jail time. It will also result in a permanent criminal charge for simple assault on your record. A violent offense like that can cause you serious problems in terms of employment, school, professional licenses, etc. In fact, if you are charged with simple assault for alleged domestic violence, you may even be issued a restraining order as well. If you are facing charges for simple assault in Essex County, New Jersey, it is critical to retain a criminal defense lawyer who can provide an aggressive defense.
We represent clients facing simple assault charges throughout Essex County, including Newark, Bloomfield, Montclair, Belleville, and Irvington. Our team of experienced criminal defense attorneys has successfully handled thousands of simple assault cases in Superior Court and Municipal Courts in New Jersey, so we know what it takes to win your simple assault case. The firm also has a former county and municipal prosecutor on staff who used to prosecute simple assault charges for the State. This gives us an edge when we represent you in court. If you have been charged with simple assault in Essex County, it is imperative that you act quickly. Call our offices in Newark, New Jersey today at 201-654-3464 to schedule a free consultation with our experienced Essex County criminal defense lawyers.
Simple Assault Charges in New Jersey: N.J.S.A. 2C:12-1(a)
The NJ Criminal Code classifies simple assault as a disorderly persons offense or a petty disorderly persons offense. The exact classification, and the potential penalties, is determined by the circumstances of the offense. As set forth by N.J.S.A. 2C:12-1(a), simple assault occurs when you:
Purposely, knowingly, or recklessly cause bodily injury to someone else.
Negligently cause bodily injury while using a deadly weapon.
Use physical menace to put another person in fear of imminent serious bodily injury
When the altercation stems from a fight entered into by mutual consent, the charge is classified as a petty disorderly persons offense. Otherwise, it is a disorderly persons offense.
Penalties for Simple Assault in New Jersey
You need to take your simple assault charge seriously because the penalties are no joke. If you are convicted, you may be sentenced to six months in jail and fined up to $1,000. Additionally, you could be left with a permanent criminal record for simple assault on your criminal case history (known as a "CCH"). Beyond that, you could lose your driver's license and your right to own a firearm in the State of New Jersey.
Enhanced Penalties for Aggravated Assault in NJ
In the worst cases, your simple assault charge could be elevated to aggravated assault. Since aggravated assault is classified as a felony-level offense, you will have to appear in the county Superior Court and you may be sentenced to a term of incarceration in state prison.
Contact a Newark Simple Assault Lawyer for Additional Information
If you or a loved one has been charged with simple assault in Essex County, NJ, the experienced criminal defense attorneys at our firm can assist you. We have a reputation for winning in the courtroom, which gives us an edge when it comes to negotiating simple assault charges with the prosecutor. Regardless of the situation, we are prepared to fight you charges and secure the best possible outcome to your case. Call us today at 201-654-3464, or email us to schedule a free consultation.