Millburn Possession of a Fake ID Lawyers
Juvenile Crime Attorneys with an Office in Newark, New Jersey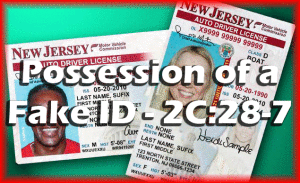 Although many people think that being in possession of a fake ID is a minor juvenile offense, New Jersey prosecutors take this crime very seriously. As a result, your son or daughter could face serious repercussions for a fake ID conviction. You need to speak with an experienced criminal defense lawyer because your child's future could hang in the balance.
The juvenile crime defense attorneys at the Tormey Law Firm are familiar with the juvenile justice system in New Jersey. We have successfully represented juvenile clients in courtrooms throughout Essex County, including Bloomfield, Irvington, and Belleville. Our firm's founding partner, Travis J. Tormey, has defended juveniles against a number of criminal charges, including shoplifting, criminal mischief, and resisting arrest. Additionally, another member of the firm's litigation team previously served as a Special Deputy Attorney General and a Municipal Prosecutor. While serving on behalf of the State of New Jersey, he honed his skills and gained exceptional insight into prosecutorial strategies in cases ranging from underage possession of alcohol to underage DWI. Now he is defending our clients against these same charges.
If your son or daughter has been charged with possession of a fake ID or any other juvenile offense in New Jersey, the Tormey Law Firm can help. Call us 24 hours a day at 201-654-3464 to discuss the case.
Possession of a Fake ID in New Jersey: N.J.S.A. 2C:28-7
Offenses involving possession of a fake ID in New Jersey are governed under N.J.S.A. 2C:28-7, the statute known as "Tampering with Public Records or Information." As set forth by this statute, charges for possession of a fake ID can be classified as third degree felonies or disorderly persons offenses, depending on the circumstances of the specific case.
A person commits the crime of possessing a fake ID when they:
Knowingly makes a false entry in, or false alteration of, any record, document or thing belonging to the government for information or record, or required by law to be kept by others for information of the government
Makes, presents, offers for filing, or uses any record, document or thing knowing it to be false
Purposely and unlawfully destroys, conceals, removes, mutilates, or otherwise impairs the verity or availability of any such record, document or thing.
Penalties for Possession of a Fake ID in Newark, NJ
This offense is typically graded as a disorderly persons offense. A conviction for a disorderly persons offense is punishable by a maximum term of incarceration of 6 months in the county jail and a fine of up to $1,000.
When the actor's purpose is to defraud or injure another person, the offense is classified as a crime of the third degree. A conviction for third degree possession of a fake ID is punishable by a term of incarceration of 3-5 years in New Jersey State Prison.
A person commits a crime of the fourth degree if they purposely and unlawfully alter, destroy, conceal, remove or disable any camera or other monitoring device installed in a patrol vehicle. A conviction for fourth degree possession of a fake ID can result in a sentence of up to 18 months in NJ State Prison.
Free Consultation with an Experienced East Orange Possession of a Fake ID Attorney
The legal team at the Tormey Law Firm includes attorneys who have successfully defended numerous juvenile clients against serious criminal charges in Superior Courts throughout New Jersey. We know how to fight possession of fake ID charges in Essex County courtrooms. Call us today at 201-654-3464 to discuss your case with one of our experienced attorneys, or email us to schedule a free consultation at our Newark NJ office.