Luring, Enticing, and Solicitation of a Minor in New Jersey
With offices in Newark, New Jersey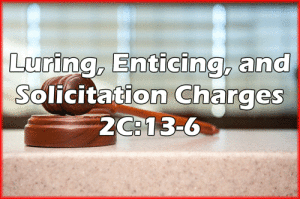 In the Internet age, luring charges and convictions have become more common. A conviction for any sex crime in the State of New Jersey can have a significant impact on your life; however, this is especially true when the sexual offense involves a child because NJ judges will not hesitate to impose maximum punishments against child sex offenders. In fact, even the mere allegation of a crime like luring, enticing, or solicitation can permanently destroy your reputation. The best thing you can do right now is to contact a lawyer who knows how to fight these charges both in and out of the courtroom.
The lawyers at the Tormey Law Firm have the experience and the knowledge needed to help you beat your luring charges. We have successfully defended numerous clients against these kinds of charges in Glen Ridge, West Caldwell, and everywhere else in Essex County, NJ. Travis J. Tormey, the firm's founding partner, is a respected legal resource on sex offender registration requirements. Prior to starting his own legal practice, Mr. Tormey worked in the sex crimes unit at the United States Attorney's office. Our lawyers understand the nuances of the law and can help you win your case.
Call the Tormey Law Firm
Contact us today at 201-654-3464. The penalties in luring cases often include mandatory terms of imprisonment, so it is imperative that you do not delay in starting your defense.
Luring, Enticing, and Solicitation: N.J.S.A. 2C:13-6
Luring, enticing, and solicitation charges are codified in the New Jersey Criminal Code under N.J.S.A. 2C:13-6. The statute prohibits a person from using any means to lure or entice a child into a motor vehicle, a building, or any other isolated area for the purpose of committing a criminal offense against the child. This includes the use of electronic means such as an Internet chat room or cellphone texting. As a result, even mere communications with a child on the computer may be considered a serious criminal offense.
Penalties for Child Luring, Enticement, and Solicitation in Essex County
The law classifies luring of a minor as a second degree felony. This means that anyone convicted of luring, enticing, or solicitation in New Jersey may be sentenced to up to 10 years in NJ State Prison. Additionally, there is a presumption of incarceration in these cases, which means that even a first-time offender will be subject to a minimum mandatory term of imprisonment of five years.
NJ Sex Offender Registration
One of the most severe consequences of a conviction for luring is sex offender registration. In fact, in accordance with Megan's Law, you could be required to register as a sex offender for the rest of your life. Even if you move, you will have to notify the local police department about your status as a convicted sex offender.
Free Consultation with Roseland Luring Attorneys
Your luring charges could be the result of a simple misunderstanding. Let the experienced attorneys at the Tormey Law Firm look over your file and get to the bottom of your case. Call us today at 201-654-3464 to discuss your luring charges over the phone, or fill out the online contact form to schedule a meeting at our office in Newark, NJ.