Aggravated Assault Attorney Near Me in Essex County
With offices in Newark, New Jersey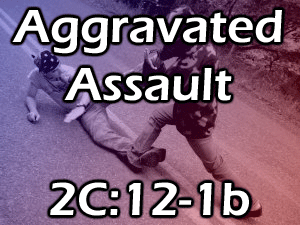 Aggravated assault is a serious felony charge in New Jersey that will be graded as a second or third degree indictable (felony) offense depending on the nature of the force used, whether or not a weapon was involved, and the extent of the damage or injuries to the victim. In addition, because it is considered a violent crime under the No Early Release Act, you must serve 85% of your state prison sentence before being released on parole if you are convicted of aggravated assault in NJ.
Don't let an innocent mistake or inadvertent action ruin your life. If you've been accused of an assault or threat crime in New Jersey (including aggravated assault), it is imperative that you have experienced legal representation in your corner. For a free initial consultation with a Montclair Aggravated Assault Attorney, contact our offices anytime for a free initial consultation at 201-654-3464.
The criminal defense lawyers at the Tormey Law Firm are prepared to help you beat your aggravated assault or simple assault charges. Prior to founding the firm, Travis J. Tormey served with the United States Attorney's Office in the gang task force, sex crimes unit, and white collar crimes unit. Now he fights on behalf of defendants in courts throughout Essex County, NJ, including Orange, Bloomfield, and Montclair. We have several other experienced criminal defense attorneys who have literally handled thousands of assault charges and domestic violence cases in New Jersey.
Call the Tormey Law Firm
Call us today at 201-654-3464 to discuss your aggravated assault charges. Also, feel free to view examples of our Successful Assault Case Results.
NJ Aggravated Assault Charges: N.J.S.A. 2C:12-1(b)
When an argument gets out of hand, aggravated assault charges often follow. That's because the New Jersey Criminal Code defines "aggravated assault" in such a way that it can apply to just about any kind of altercation. Anytime a person purposely, knowingly, or recklessly causes serious bodily injury, they can be charged with aggravated assault. You can also be charged with aggravated assault for manifesting extreme indifference to human life.
Other circumstances that can lead to aggravated assault charges include:
Causing injury during a theft
Injuring another person while eluding police
Causing bodily injury with a deadly weapon
Pointing a firearm in the direction of another person
Assaulting a police officer
Committing a simple assault upon an elderly person
Assaulting another person in the presence of a child
Essex County Aggravated Assault Penalties
Aggravated assault is an indictable, felony-level crime. The exact classification of an aggravated assault charge varies, depending upon the type of offense and the severity of the injuries. Other relevant factors include whether a firearm or other deadly weapon was used, the mental state of the defendant, the occupational status of the victim, and the location of the aggravated assault.
Regardless of the degree of your offense, you are looking at severe penalties:
Second degree aggravated assault: A term of incarceration of 5–10 years in New Jersey State Prison, with a presumption of incarceration.
Third degree aggravated assault: A sentence of between 3–5 years in NJ State Prison.
Fourth degree aggravated assault: A sentence of up to 18 months in state prison.
Charged with Aggravated Assault? We can help
Whether you've been charged with aggravated assault or simple assault in Montclair New Jersey or anywhere in Essex County NJ, it is crucial that you have an experienced criminal defense attorney on your side. The criminal trial team at the Tormey Law Firm includes lawyers who know what it takes to beat an aggravated assault charge in court. We have successfully represented thousands of clients in superior courts and municipal courts throughout the state on assault charges including aggravated and simple assault. Our top priority will be to fight your charges and get the case dismissed. If you are concerned about your future, call Travis Tormey today at 201-654-3464, or fill out the online contact form to schedule a free consultation at our office in Newark, NJ.