Essex County NJ Weapons Lawyers
Gun Charges Defense Attorneys in Newark, New Jersey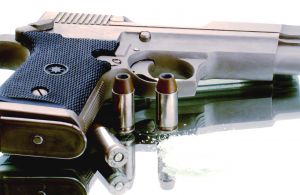 In an effort to crack down on gun crimes, New Jersey lawmakers have passed some of the strictest gun laws in the county. If you are arrested for carrying a firearm without a permit in Essex County, New Jersey, you face significant penalties that include mandatory prison time. Even weapons offenses that do not involve guns can result in harsh punishments. That's why it is imperative that you contact a criminal defense lawyer as soon as possible.
The Tormey Law Firm is a highly respected law firm with weapons defense lawyers who understand the nuances of New Jersey guns laws. We appear regularly in courtrooms throughout Essex County, NJ, including Orange, Caldwell, Irvington, Belleville, Bloomfield, and Newark. The firm's founding partner previously worked at the United States Attorney's Office and assisted with a number of important task forces. Additionally, our litigation team includes a former county and municipal prosecutor, so we know how to win if your weapons case goes to trial.
Begin Your Weapons Case Defense
Contact us today at 201-654-3464 so that we can begin your defense and help you avoid the most serious consequences of a gun crime conviction. We will provide you with a free consultation about your specific weapons case and can also schedule an appointment to meet with you at our offices in Newark, NJ.
Unlawful Weapons Possession Attorney in Bloomfield NJ
Our veteran gun crime lawyers will protect your rights throughout the legal process. We have represented countless clients charged with weapons offenses and those facing gun-related issues, including:
Our track record of success in weapons cases helps us during the negotiation stage because prosecutors respect our work and are open to resolving cases with us in advance of trial. This means that we might be able to negotiate reduced charges or probation in your case. In the best cases, we are able to get the charges dismissed entirely.
Contact a Newark Firearm Defense Lawyer for a Free Consultation
The weapons attorneys at the Tormey Law Firm will be strong advocates for you during this difficult time. We understand that this could be the most important moment in your life. That's why we will do everything in our power to help you get through this situation with your dignity and your freedom intact. Call us today at 201-654-3464 to discuss your Essex County weapons charges, or email us to schedule a free consultation at our office in Newark, NJ.