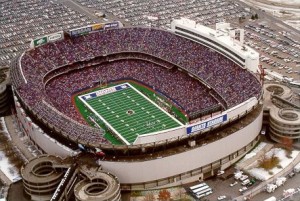 Travis Tormey and the Tormey Law Firm successfully defended a client against serious criminal charges after an on-field incident at a New York Jets game. The client walked onto MetLife Stadium, located in East Rutherford, NJ, a short time after the game ended. Once on the field, she took a towel from a team bin without permission.
The client had a field pass to walk onto the field, but she got a bit too excited and "jumped the gun" by moving toward the MetLife field a little early and without authorization. As a result, she was detained by police officers and charged with disorderly conduct and defiant trespassing. Law enforcement also issued her a citation for a local municipal violation for creating a disturbance at MetLife Stadium, which serves as the home field for the NFL's NY Jets and NY Giants.
The client needed an experienced criminal defense lawyer on her side because she faced severe penalties if convicted on the disorderly conduct charges. As set forth by N.J.S.A. 2C:33-2, engaging in tumultuous behavior with purpose to cause public inconvenience is classified as a petty disorderly persons offense. The statute dictates that a conviction on disorderly conduct charges could lead to a sentence of up to 90 days in the local county jail.
After being arrested, the client reached out to Travis J. Tormey, who immediately started working on her defense. Mr. Tormey talked to the East Rutherford prosecutor and made sure to point out that his client had permission to be on the field – just not quite so early. Beyond that, Mr. Tormey said, his client did not have a prior criminal record. Mr. Tormey was able to work out a favorable plea agreement for his client, resulting in the prosecutor's office opting to drop the criminal charges in the case. The client then entered a guilty plea on the less serious municipal ordinance violation and merely had to pay a small fine.
Thanks to strong representation by Travis J. Tormey, the client will not have criminal record as a result of this unfortunate incident at MetLife Stadium. This was a big win for the Tormey Law Firm and an excellent outcome for the client.
Travis Tormey frequently represents clients facing criminal charges for disorderly conduct, trespassing, and simple assault in Bergen County, Essex County, Morris County, and everywhere else in New Jersey. Within Bergen County, he appears in East Rutherford Municipal Court on a regular basis. Contact Mr. Tormey today to discuss your case over the phone or to schedule a free consultation at his conveniently located office in Hackensack, NJ.