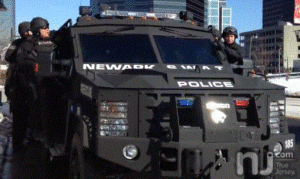 The Newark Police Department is reportedly engaged in intensive preparation activities for the upcoming Super Bowl at MetLife Stadium in East Rutherford, NJ.
Although the event itself will not be held in their municipality, the Newark Police SWAT team conducted drills to address a series of potential crises and criminal activity at the Prudential Center in Newark, where the Super Bowl media day is scheduled to begin on Tuesday.
Media day organizers expect a large crowd, including fans and news organizations covering the sports stars and celebrities associated with this year's game. This led approximately 30 members from the Newark SWAT team to conduct "what if" drills in order to be prepared for whatever the day could bring.
The SWAT team will be coordinating with officers from the New Jersey State Police Department, as well as units from the FBI, to ensure the safety and security of the day's event. According to Captain Mario Martin, the head of the Special Operations Units in Newark, this amalgamation of law enforcement officials will serve as a "reactionary force" if necessary.
In addition to these drills, Newark SWAT members practiced a number of "high-risk entries" in which they forcefully entered a premises, secured the area, and handcuffed all of those inside, pending the arrival of additional law enforcement to make arrests and/or serve warrants. The commander of the SWAT team, Sergeant Francesco Rossi, explained that the force regularly serves this function for a variety of other agencies, including the FBI, the DEA, the Newark Police Department, Essex County task forces, and other organizations within the state.
Not only has the SWAT team been tasked with monitoring the Newark-based Super Bowl media day; they will also be at the ready for the entire week of the Super Bowl. As such, the force has conducted training at MetLife Stadium and at train stations where spectators will be traveling to and from the game. SWAT team members will reportedly be positioned in the vicinity of the stadium on the day of the event as well.
For more information, access the following article: "Super Bowl SWAT: Newark's team is ready for anything."