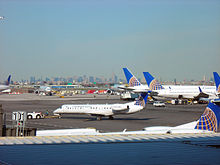 Police recently arrested a Newark NJ man who allegedly stabbed someone at Newark Liberty International Airport.
The violent crime reportedly occurred at a building at the Newark Airport. According to law enforcement, the suspect got into a heated argument with the victim. Both the suspect and the victim are employees at Newark Liberty Airport.
At some point, the suspect, a 51-year-old resident of Newark NJ, became enraged and allegedly brandished a knife. The suspect then allegedly used the knife to stab the victim, a 48-year-old Newark man.
The suspect reportedly fled the scene of the stabbing.
Afterwards, the victim dialed 911 to alert the police. Emergency responders then transported the victim to Newark Beth Israel hospital so that he could receive medical care for his stab wounds.
Remarkably, Newark NJ detectives found the suspect at the same hospital. He reportedly went to the Newark medical facility because he also sustained injuries during the fight.
When police officers searched the suspect's car, they reportedly found a knife.
The suspect now faces criminal charges for aggravated assault and unlawful possession of a weapon.
For additional information about this case, read the NJ.com article, "Man Accused of Stabbing Co-Worker at Newark Airport."