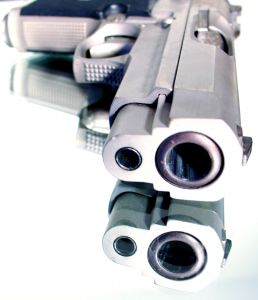 Alissa D. Hascup of the Tormey Law Firm recently represented a client charged with unlawful possession of a weapon and possession of a weapon for an unlawful purpose in Paterson, New Jersey.
Ms. Hascup appeared in the Passaic County Superior Court to defend the client, who was in his 40s and had no prior criminal record.
Our client, a father of two, grew up in Paterson himself. As a result, he tried to give back to the community by volunteering at a local boys center where he also spent time as a youth. During the course of his volunteer work at the center, he overheard several boys talking about a gun. It became clear from the conversation that one of the boys had a handgun. Our client confronted the boy and convinced him to turn over the gun.
Our client took the weapon, put it in his trunk, and planned on turning it in to one of those "voluntary surrender" programs that were held all over the country after the tragic shooting in Connecticut.
Then, our client and his wife had an argument; this resulted in his wife calling the police. Our client's wife was furious that he had been unfaithful to her. Of course, she was aware of what had transpired with the boy and the weapon; she also knew that her husband had placed the gun in his car. So she told the police that he threatened her with the gun. As a result, police officers placed our client under arrest.
Now came the scary part: our client was facing multiple felony charges including unlawful possession of a weapon and possession of a weapon for an unlawful purpose. If convicted of either of the most serious weapons offenses, he could have been sentenced to 5–10 years in New Jersey State Prison.
Needless to say, the suspect in the case was distraught. Thankfully, he protected his future by hiring Mr. Tormey and Ms. Hascup to represent him. Ms. Hascup immediately got to work for the client. She secured the services of an investigator to take statements from the pastor who runs the volunteer program at the boys center. The investigator also obtained a statement from our client's girlfriend, who had now recanted her statements to police.
When the Passaic County Prosecutor's Office presented the case to a grand jury for an indictment, the new evidence resulted in the charges being dismissed because the grand jury failed to indict our client.
This was an unbelievable result for the client and for his family.