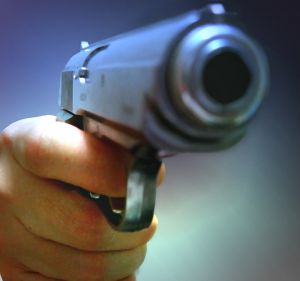 Police in Montclair NJ are investigating a mid-day robbery on Madison Avenue.
According to authorities, an assailant approached a woman on the street and demanded that she hand over her money.
When the woman turned around to face the suspect, he reportedly pointed a semiautomatic handgun at her. The victim understandably threw her purse to the ground in fear. The armed robber then allegedly grabbed the handbag and ran, fleeing north on Madison Avenue in a silver sedan.
According to reports of the incident, "the armed robber was described as a black male with dark complexion, wearing a black neoprene ski mask with one large opening for both eyes and a black hooded sweatshirt."
Robbery is typically classified as a second degree criminal offense. However, if the offender uses a deadly weapon in the course of committing the robbery the offense may be classified as a first degree criminal offense. In New Jersey, first degree crimes are punishable by a term of imprisonment of 10–20 years in New Jersey State Prison. This crime is also listed under the No Early Release Act ("NERA"), meaning that 85 percent of any sentence imposed by the court must be served before the offender becomes eligible for parole.
If and when the suspect in this case is caught by police, he may be also be charged with Unlawful Possession of a Weapon.
Anyone with information regarding this incident is asked to contact Montclair detectives at 973-509-4706 or the Essex County Tip Line at 973-877-TIPS. All calls are confidential.
For more information pertaining to this case, access the following article: "Woman Robbed at Gunpoint in Montclair."