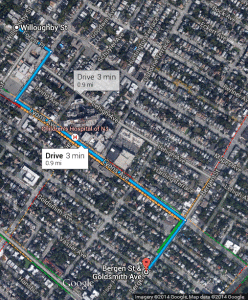 Newark police apprehended two robbery suspects after a high-speed vehicle pursuit and foot chase.
According to authorities, the two suspects had committed several armed robberies throughout the city.
Police officers were investigating a robbery on Willoughby Street when they observed a vehicle pass by; the vehicle matched a description of one used during the robbery.
A vehicle chase soon ensued, with officers pursuing the suspect to Bergen Street and Goldsmith Avenue. The suspects ditched their getaway vehicle and tried to flee on foot.
According to reports, Newark police swarmed the scene and soon captured the suspects.
Police allegedly founds the suspects in possession of cash taken during the robberies and a .45-caliber Glock handgun
Both suspects were charged with robbery, eluding, and weapons offenses.
Eluding the police is a serious criminal offense in New Jersey. Depending upon the circumstances, eluding can be classified as either a second degree felony or a third degree felony. If the suspects in this case are convicted of second degree eluding, they may face a sentence of 5–10 years in prison.
The suspects might also be facing first degree robbery charges. First degree armed robbery is punishable by a term of imprisonment of 10–20 years in prison.
For more information, check out the NJ.com article entitled: "Newark Police capture suspects in city robbery spree."