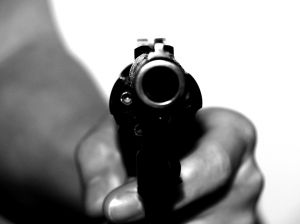 A man was arrested after allegedly assaulting a police officer in Newark, NJ.
Detectives were investigating narcotics activity around the 200 block of 16th Avenue in Newark when one of the detectives approached a possible suspect. According to authorities, the suspect immediately fled when the detective began asking him questions.
During the ensuing chase, the suspect allegedly pulled out a revolver and fired a single round toward the officer. The suspect then threw the still-loaded loaded .38-caliber revolver to the ground and continued running.
At this time, no description of the suspect has been released to the public. Anyone with information about the suspect or the incident is asked to contact the Newark Police Department's 24-hour anonymous tips line at 877-NWK-TIPS.
Under New Jersey law, aggravated assault on a police officer is a third degree felony. As set forth by N.J.S.A. 2C:12-1, a person can be convicted of this crime simply for pointing a firearm at a police officer. If the offender in this case is apprehended and convicted of third degree aggravated assault he could be sentenced to 3-5 years in New Jersey State Prison.
For more information, check out the NJ.com article entitled: "Newark police officer shot at by unidentified man, authorities say."