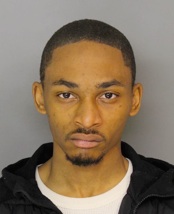 Newark police recently arrested a robbery suspect in East Orange, New Jersey.
The suspect is a 23-year-old man from Newark, NJ. According to authorities, the suspect held up a 26-year-old Newark man last month.
The suspect, along with another man, allegedly robbed the victim of his wallet and other items.
Detectives with the Newark Police Department investigated the armed robbery and identified one of the alleged robbers. Members of the Newark Police Fugitive Apprehension Team later located the suspect in East Orange and placed him under arrest.
The suspect has been charged with multiple crimes, including armed robbery and possession of a weapon for an unlawful purpose.
Meanwhile, Newark NJ police are still searching for the second suspect in the robbery. Anyone who has information about the theft incident is asked to contact investigators at 877-695-8477 or 877-695-4867.
For additional information about this case, read the NJ.com article, "Fugitive Nabbed in East Orange a Month After Newark Robbery."