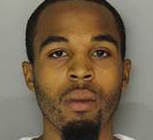 A Newark man was arrested in connection with armed robbery at grocery store.
The suspect is a 23-year-old resident of Newark in Essex County, New Jersey. According to officials, the suspect was one of three men who entered La Mina De Oro Grocery, located on Oriental Street in Newark, NJ, and held up a clerk. The men allegedly got away with cash from the store register and then fled the scene on foot.
Police eventually determined the identity of one of the men – the 23-year-old Newark resident – and arrested him. When police took the suspect into custody, they allegedly found him carrying 23 packets of heroin and 31 vials of cocaine.
The suspect faces numerous criminal charges, including charges for armed robbery, unlawful possession of a weapon, possession of a weapon for an unlawful purpose, possession of heroin, and possession of cocaine.
Newark law enforcement is still searching for the other two men who allegedly participated in the grocery store robbery.
For further information about this case, read the NJ.com article, "Man Wanted for Gunpoint Holdup Captured, Drugs Seized, Police Say."