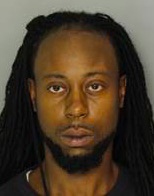 Newark NJ police officers recently arrested a local man accused of robbing a woman he met through an online dating service.
The suspect is a 32-year-old man who resides in Newark, New Jersey. According to Newark Public Safety Director Anthony Ambrose, the suspect first encountered the victim on the Internet by using a dating service.
The suspect arranged to meet the victim in person for a dinner date. However, when the suspect showed up at the victim's apartment, located in the South Ward of Newark, he allegedly stole cash and other personal items and then fled the scene.
Detectives with the Newark Police Department and the Essex County Prosecutor's Office worked together on an investigation into the robbery incident and eventually determined the identity of the robbery suspect. Police then located the suspect in Newark NJ and arrested him without incident.
The suspect has been charged with robbery, a very serious theft crime that carries significant penalties. If the suspect is convicted on the robbery charges, he could potentially be sentenced to several years behind bars in New Jersey State Prison.
For further information about this case, read the NJ.com article, "Newark Man Robbed Victim on Date Arranged Online, Cops Say."