Newark, NJ Man Accused of Shooting into Parked Car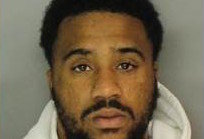 A Newark man faces first degree murder charges in connection with a fatal shooting on a city street. The suspect is 25-year-old Robert Steele. According to law enforcement officials, Steele used a handgun to shoot someone on the 100 block of Littleton Avenue in Newark, NJ. At around 11:15 p.m., Steele allegedly fired multiple gunshots at a motor vehicle parked on the street. The victim in the shooting, also a Newark resident, sustained critical wounds and required urgent medical care at University Hospital. Doctors at the Newark medical facility tried to save the victim. Tragically, the victim died seven days after the shooting incident. He was just 26 years old at the time of his death.
Detectives with the Newark Police Department Major Crimes Unit investigated the violent crime and quickly identified Steele as the main suspect. The next day, members of the Newark Police Fugitive Apprehension Team and the U.S. Marshals Service located the suspect in Newark and placed him under arrest. He was reportedly apprehended without incident.
Upgraded Charges: Attempted Murder to First Degree Murder
It is not clear at this time if Steele knew the victim. Law enforcement has not provided a lot of details about the investigation. Newark Public Safety Director Anthony Ambrose issued a statement about the case and indicated that Steele has been charged with first degree murder. Steele was initially charged with attempted murder, but those charges were upgraded after the victim died. This makes a major difference as far as the potential penalties because Steele could be sentenced to life in NJ State Prison if convicted at trial in Essex County Superior Court. As set forth by N.J.S.A. 2C:11-3, murder is a first degree felony with special penalties: a minimum punishment of 30 years in prison and a maximum punishment of life imprisonment.
Steele has also been charged with several weapons offenses, including unlawful possession of a weapon and possession of a weapon for an unlawful purpose. Even if Steele avoids conviction on the murder charges, it's possible that he could end up in prison on the criminal weapons charges. That's because NJ gun laws impose severe penalties, with prosecutors often aggressively prosecuting cases involving the use of firearms.
Free Consultation with Newark Criminal Defense Lawyer Who Represents Clients Charged with Homicide
Murder is the most serious crime listed in the New Jersey Criminal Code. It also carries the most severe penalties. That's why anyone charged with murder in Newark, East Orange, Bloomfield, Irvington, or anywhere else in Essex County, NJ needs a skilled criminal defense lawyer on their side. Travis Tormey, the founding partner of the Tormey Law Firm, is an experienced criminal defense attorney who represents clients charged with violent crimes like murder, attempted murder, and manslaughter. Contact Attorney Tormey today to schedule a free consultation about your case.