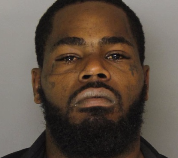 Police arrested a Newark, New Jersey man accused of shooting someone on a city street.
The suspect is a 27-year-old resident of Newark in Essex County, New Jersey. He allegedly used a handgun to fire gunshots at a man during a robbery on the 200 block of South Orange Avenue in Newark.
The shooting incident occurred at around 2:30 a.m. Someone found the victim and dialed 911 to alert law enforcement. Emergency medical responders then transported the victim to University Hospital in Newark, NJ, where he received urgent medical care for a gunshot wound.
Newark police detectives investigated the violent crime and eventually identified the suspect as the possible shooter.
Police later arrested the suspect on South 18th Street in Newark, NJ. He faces multiple criminal charges: attempted murder, robbery, unlawful possession of a weapon, and possession of a weapon for an unlawful purpose. The suspect also faces a criminal weapons charge for a certain persons offense because he was allegedly a convicted felon illegally carrying a firearm.
For more information about this case, check out the NJ.com article, "Newark Man Charged with Attempted Murder Following Shooting."