Essex County NJ Leader of a Narcotics Trafficking Network Lawyer
Defending Clients Facing Drug Kingpin Charges in Newark, New Jersey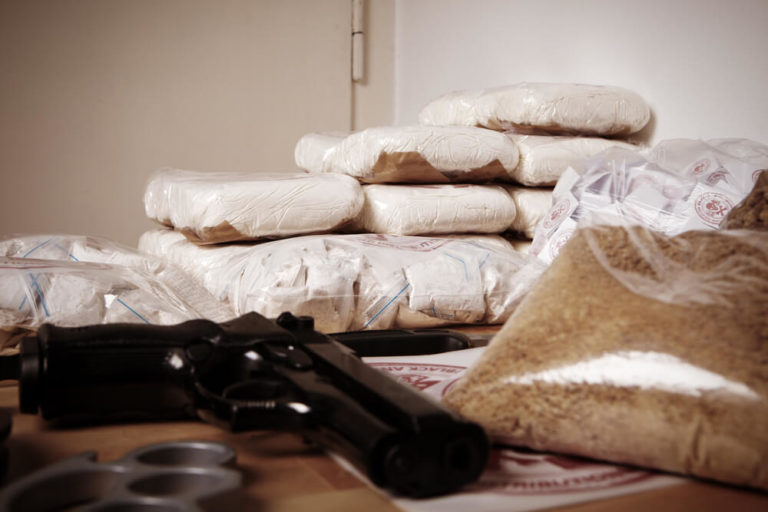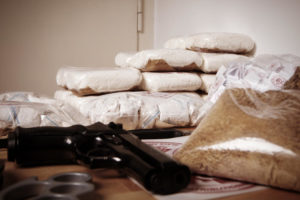 If you have been charged with leading a drug trafficking network in the State of New Jersey, you are facing serious charges and penalties that can compromise your freedom and liberties for years and even the rest of your life. A drug crime of this nature is a first degree felony, the sentence for which is even worse than typically crimes of the first degree in New Jersey. If found guilty of a crime for being the leader of a drug trafficking network, an individual may be sentenced to 25 years to life in prison. A court may also impose a fine of up to $750,000.00 or five times the street value of the controlled dangerous substance, controlled substance analog, etc. With stakes this high, drug kingpin charges must be handled with extreme care, preferably by a criminal defense attorney with experience and a thorough understanding of the complexities of these cases and what can be done to lessen your exposure to consequences or even avoid jail if at all possible. Our team includes seasoned Essex County criminal defense lawyers who know how to prepare and execute the most effective defense for your leader of a drug trafficking network charges in Bloomfield, Newark, Orange, Montclair, South Orange, Belleville, Livingston, and throughout Essex County, NJ. Contact our firm 24/7 at (201)-654-3464 for a free consultation and start building a strong defense strategy for today and your future. I
What if I'm Charged with Being the Leader of a Drug Trafficking Network in New Jersey?
The controlling statute for leading a drug trafficking ring is N.J.S.A. 2C:35-3. The statute conveys that if a person conspires with two or more other persons in a scheme or course of conduct to unlawfully manufacture, distribute, dispense, bring into or transport in this State methamphetamine, lysergic acid diethylamide, phencyclidine, gamma hydroxybutyrate, flunitrazepam or any controlled dangerous substance classified in Schedule I or II, or any controlled substance analog thereof as a financier, or as an organizer, supervisor or manager of at least one other person, then a person is considered a leader of a narcotics trafficking network.
The statute also defines the word "Financier," in this context, as a person who, with the intent to derive a profit, provides money or credit or other thing of value in order to purchase a controlled dangerous substance or an immediate precursor, or otherwise to finance the operations of a drug trafficking network. Thus, anyone who aids and/or facilitates the drug operation may be found guilty of this first degree crime.
In addition, deriving an actual profit is not required to be found guilty. In order for an individual to be found guilty of this offense, the State must prove that there was a prohibited substance involved, there was a scheme (or operation) to manufacture, sell or distribute the substance, there was a profit motive, the defendant acted to facilitate the scheme, there was an agreement between the defendant and at least one other individual, and the defendant organized, supervised, financed or managed the operation.
Punishment for Leading a Narcotics Trafficking Network in NJ
Leader of a Drug Trafficking Network charges entail more severe penalties than those for a typical crime of the first degree. Those found guilty are facing a lifelong term of imprisonment. The convicted person must also serve at least 25 years before they can even be considered for parole. A fine of $750,000 or 5-times the street value of the drugs in the specific case, whichever is higher, may come on top of incarceration.
Additionally, there are some offenses that refer to specific guidelines for sentencing to ensure consistency during plea negotiations. Thus, there are mandatory minimum sentencing and incarceration requirements involved with certain drug crimes, such as being the leader of a drug network. These guidelines are referred to as Brimage Guidelines. They look at the quantity of drugs, weapon involvement, criminal history and other factors to determine an acceptable plea. The guidelines are harsh, so in an effort to overcome them, one should consult a skilled attorney who can help.
Companion Charges may Lead to Additional Penalties
What happens if you have companion criminal offenses with this charge? Sometimes individuals charged with leading a drug trafficking ring, may also face related charges like possession of drug paraphernalia, possession of controlled dangerous substances ("CDS"), maintaining or operating a CDS manufacturing facility, booby traps in drug manufacturing or distribution facilities, manufacturing, distributing or dispensing drugs, possessing CDS in a motor vehicle, and more depending on the nature and circumstances involved with your matter.
For example, if someone is charged with an offense contrary to N.J.S.A. 2C: 35-4 because he or she allegedly maintains or operates a drug production facility, he or she faces yet another first degree crime. The statute describes any person who knowingly maintains or operates any premises, place or facility used for the manufacture of methamphetamine, lysergic acid diethylamide, phencyclidine, gamma hydroxybutyrate, flunitrazepam, marijuana in an amount greater than five pounds or ten plants or any substance listed in Schedule I or II, or the analog of any such substance, or any person who knowingly aids, promotes, finances or otherwise participates in the maintenance or operations of such premises, place or facility, shall be sentenced to a term of imprisonment which shall include the imposition of a minimum term which shall be fixed at, or between, one-third and one-half of the sentence imposed, during which the defendant shall be ineligible for parole. Therefore, a crime of this nature in conjunction with leading a drug trafficking network could easily result in someone spending life behind bars.
What if a drug trafficking case is heard in federal court in New Jersey?
Drug crimes can be heard in either State or Federal Court. If you are accused of leading a drug trafficking network and your charges are heard in federal court, it may mean a number of things. For one, a federal Court has the jurisdiction to hear the matter. Federal jurisdiction for leaders of drug trafficking networks can result from illegal activity involving different states; it may result from conduct occurring on federal land; it may involve a large quantity of drugs and money; and so much more. Federal jurisdiction may also result depending on the defendant's prior criminal history.
How to Handle a Drug Kingpin Case in Essex County NJ
Disposing of these types of matters can occur through a variety of methods, including but not limited to: dismissal of the charges all together, pleading guilty to the offense for the maximum penalties, entering a negotiated plea, or pleading not guilty and having a trial. There are many other ways to challenge a drug offense including whether there was proper consent to search one's property or motor vehicle, the legality of a motor vehicle stop, challenging a warrant, mistaking your identity, custody issues, through strong plea negotiations, and more. Felony convictions can prevent you from certain job opportunities, and overall be shameful to explain to others. That is why it is important to understand and review the facts of your case so that you can try to offset the implications of this offense.
Need a Lawyer for Leader of Drug Trafficking Network in Essex County NJ
No matter what the case may be, it is a troubling ordeal to face drug charges, especially with penalties as severe as those for leading a drug trafficking network. Our criminal defense firm with local offices in Essex County, NJ is comprised of knowledgeable and experienced attorneys that can help defend against the charges you are facing. There are long-term risks and effects that can impact one's freedom through incarceration, jobs, career choice and your very freedom is at stake. Do not hesitate to contact us at (201)-654-3464 to consult a drug crime defense lawyer handling leader of a narcotics trafficking network charges in Essex County and throughout New Jersey. You can reach us anytime for a free consultation or schedule an appointment to meet with us at our Newark office.