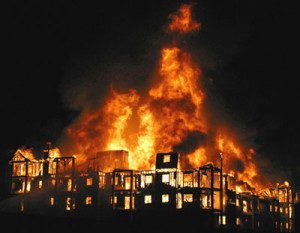 Newark NJ law enforcement is searching for a man who allegedly committed arson in Newark and Elizabeth, New Jersey.
The suspect has not yet been identified by authorities, but police believe it was a male because he was reportedly spotted on surveillance videos.
According to Newark officials, the suspect set two fires in May 2017 at two different locations in Newark and Elizabeth. Detectives with the Newark Police Department and the Elizabeth Police Department investigated the blazes and determined that the same person intentionally started both fires.
On June 25, 2017, the suspect allegedly started four more fires in Newark. The arsonist reportedly set fire to trash heaps on Broad Street and elsewhere in Newark, New Jersey.
The good news is that nobody sustained any injuries as a result of the fires. However, there was significant property damage.
If investigators can determine the identity of the suspect, he would likely face criminal charges for arson and possibly aggravated arson.
For additional information about this case, access the NJ.com article, "Serial Arsonist Sought in Newark and Elizabeth."