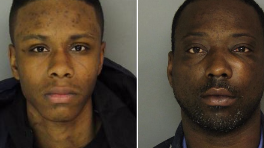 Newark NJ police arrested two adults and one juvenile for weapons offenses in unrelated incidents. Additionally, one of the suspects was reportedly wanted by law enforcement for his alleged role in a violent shooting.
The shooting reportedly occurred in the middle of the afternoon on the 100 block of Morton Street in Newark, New Jersey. The Newark Police Department dispatched officers to the area after receiving a report of gunshots fired. When cops got to the scene, there were no victims. However, police officers did see property damage caused by gunfire.
Newark NJ detectives investigated the shooting and quickly identified the suspect as a 20-year-old Newark male. Police located him near the intersection of 14th Avenue and Jones Street and placed him under arrest.
The shooting suspect has been charged with multiple crimes, including aggravated assault, possession of a weapon for an unlawful purpose, and unlawful possession of a weapon.
Newark NJ police also arrested a 37-year-old man accused of illegally possessing a rifle. Police officers went to the suspect's residence on the 100 block of Court Street in response to a domestic violence complaint. When cops arrived at the home, they spoke to the victim, a 35-year-old man, and learned that the suspect allegedly committed an assault and damaged a motor vehicle.
Police officers got permission to search the house and reportedly discovered a loaded rifle and 121 rounds of ammunition.
The suspect was subsequently placed under arrest and charged with numerous crimes, including simple assault, terroristic threats, and criminal mischief. Moreover, the suspect was reportedly charged with a certain persons offense for possessing a weapon while prohibited.
Newark law enforcement made a third arrest that same week. Police officers arrested a 16-year-old Newark boy who was allegedly brandishing a firearm while walking in the area of Quitman Street and West Kinney Street.
When Newark cops searched the juvenile suspect, they allegedly found him in possession of a loaded .40-caliber handgun.
Newark Public Safety Director Anthony Ambrose issued a statement about the recent arrests. He did not indicate whether the minor suspect will be charged with juvenile offenses.
For further information about these cases, access the NJ.com article, "3 Arrested on Weapons Charges in Newark, Including Shooting Suspect."