Newark Obtaining CDS by Fraud Lawyers
Defense Attorneys for Prescription Fraud Charges in Essex County, New Jersey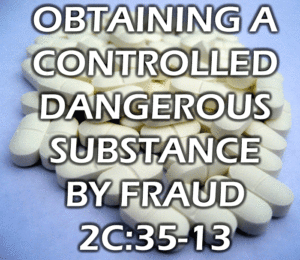 Possessing any controlled dangerous substance (CDS) in New Jersey is illegal, but obtaining CDS by fraud, misrepresentation, forgery, or deception is a distinct offense that is considered a third degree crime. This charge is most often related to the methods by which a person acquires or attempts to acquire prescription medication. A conviction carries up to a $50,000 fine and a maximum state prison sentence of five years, according to N.J.S.A 2C:35-13. Obtaining CDS by fraud is often further complicated because it is combined with other drug-related crimes, including prescription forgery or prescription drug theft. The ongoing prescription drug addiction crisis in New Jersey and across the nation has shed additional light on this type of crime in recent years, so it is something that prosecutors are taking very seriously.
If you or someone close to you has been charged with obtaining CDS by fraud in Essex County, New Jersey, you need the experience of trial-tested criminal defense lawyers to navigate you to a successful outcome. Don't trust just anyone with your freedom on the line. The criminal defense attorneys at The Tormey Law Firm have extensive experience defending clients against prescription fraud and similar charges. With offices in Newark, we regularly appear in courts in Montclair, Bloomfield, Glen Ridge, Verona, Livingston, Nutley, West Orange, and throughout Essex County, NJ. We always take the time to understand the circumstances of your specific case, comb through the evidence, and identify the avenue that positions you for the best possible outcome. For a free consultation with a prescription fraud defense lawyer, call us at 201-654-3464 or contact us online.
2C:35-13 Obtaining CDS by Fraud
The statute that governs obtaining CDS by fraud offenses in New Jersey is N.J.S.A 2C:35-13, which states the following:
It shall be unlawful for any person to acquire or obtain possession of a controlled dangerous substance or controlled substance analog by misrepresentation, fraud, forgery, deception or subterfuge. It shall be unlawful for any person to acquire or obtain possession of a forged or fraudulent certificate of destruction required pursuant to N.J.S.2C:35-21. A violation of this section shall be a crime of the third degree except that, notwithstanding the provisions of subsection b. of N.J.S.2C:43-3, a fine of up to $50,000.00 may be imposed. Nothing in this section shall be deemed to preclude or limit a prosecution for theft as defined in chapter 20 of this title.
Elements of Obtaining CDS by Fraud Crimes
If you've been found in illegal possession of a prescription drug, the authorities will question where you obtained the drugs, which often leads to the companion charge for obtaining CDS by fraud. The same thing applies if you're accused of participating in a scheme to illegally procure prescription drugs.
In order to successfully convict you of obtaining CDS by fraud, the prosecution must prove beyond the shadow of a doubt that you:
Possessed or attempted to possess a controlled dangerous substance, either an illicit drug or prescription drug;
Lied or used misrepresentation, fraud, or forgery to obtain the CDS; and
Knowingly engaged in deceitful conduct in order to obtain the CDS
Prescription Fraud Offense Explained
Using a false identity, providing false information about oneself and/or engaging in activity that would prevent someone from uncovering your true identity would all fall under this crime. In addition, altering a prescription without proper authority would be a violation of this law. Here are some potential examples of conduct that may give rise to an obtaining CDS by fraud charge:
Illegally reproducing prescription blanks or a prescription drug for distribution
Impersonating a doctor, medical professional, or patient in an attempt to get prescriptions
Calling in an unauthorized prescription
Altering a prescription label to change the quantity, type of drug, dosage, patient name or other information without authorization
What are the Penalties for Obtaining CDS by Fraud?
As mentioned earlier, a conviction for a violation of N.J.S.A. 2C:35-13 may lead to an incarceration of up to five years and a maximum $50,000 fine. However, a knowledgeable attorney may be able to cast doubt upon the prosecution's argument, negotiate a plea deal, or facilitate your entry into a diversionary program to keep your record clean and help you avoid jail time. For example, the Pre-trial Intervention Program (PTI) offers first-time offenders charged with eligible offenses in New Jersey the opportunity to have their charges dismissed by successfully completing a period of probation.
West Orange Obtaining CDS by Fraud Attorneys
If you have been arrested for obtaining CDS by fraud, possession of prescription drugs, or another drug crime in the Essex County, NJ area, you need the experience of a skilled criminal defense attorney on your side at this critical period. Protect your future by contacting The Tormey Law Firm for a free initial consultation. Call 201-654-3464 to discuss your case and learn more about your legal options. You can also schedule an appointment at our Newark office.