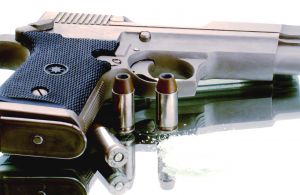 Newark police have started to crack down on illegal gun possession.
Newark Police Director Samuel DeMaio recently released a statement commending the tireless efforts of the Newark police. DeMaio said, "I am pleased by the dedication that our officers continue to exhibit every day in arresting and bringing to justice individuals that continue to carry loaded illegal handguns in our streets."
The crackdown by Newark police comes in the wake of a rise in murders in the city. According to recent reports, there were 111 killings in Newark in 2013. This represented the highest tally since 1990.
Due to these shocking numbers, Newark police have taken action. On  January 10, 2014, Newark police responded to a report of a violent individual in the area of North Munn Avenue. When police officers arrived at the scene, they reportedly found the suspect in possession of a stolen and loaded .38 caliber handgun.
A few days later, Newark police conducted a traffic stop on a vehicle that was double parked and allegedly found the driver in possession of a loaded .380 caliber pistol. The suspect was arrested and charged with weapons offenses and drug offenses because police also allegedly found drug paraphernalia on his person.
In New Jersey, unlawful possession of a handgun is governed under N.J.S.A. 2C:39-5(b). The statute classifies handgun offenses as indictable felonies. Anyone who is convicted of third degree unlawful possession of a handgun may be sentenced to 3-5 years in NJ State Prison. Additionally, this offense falls under the "Graves Act," which requires the imposition of a minimum term of imprisonment and parole ineligibility for certain firearm-related offenses.
For more information, read the NJ.com article entitled: "Newark police seize weapons from two convicted felons."